hercafe.net

Up until my early 30's, I had poker straight hair. My other half jokingly suspects that all those years of inflicting my locks to perm solution has made my hair naturally curly. Well, I have no real explanation as to why I woke up one morning and found myself looking more Mod Squad fro than boring straight.

blogs.smarter.com

I like the IDEA of curly hair but mine goes all frizzy and never goes in the direction I want it to go. But I suppose that's everybody's woe now and then. I suppose we're lucky these days to have so many tools and potions available to us. Gone are the days of resting one's head precariously on an ironing board hoping that the starch spray is aimed at the trousers and not the hair. Also gone are the days of twisting and knotting one's hair at night, guaranteeing a lumpy night sleep.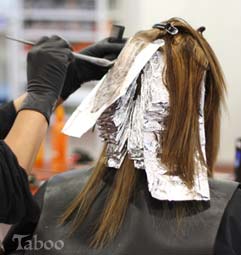 taboohairsalon.co.nz

Yesterday I did a very decadent thing by inviting my colourist for a house call visit. We had an old shower curtain liner on the floor, tv showing a mindless sit-com and the 2 of us just chatting away while foil was carefully placed into my hair. At some point, I could have picked up some AM frequencies!
Let's look at some vintage and retro hair tools that have tortured so many women in decades past...

"Curl Clips" from the 1950's. Guaranteed not to
crush
your curls!
taste-t-vimtage.com


Vintage metal curlers.
Can you say neck cramp and headache?
taste-t-vimtage.com
Go ahead, make your day!
Vintage gun blow dryer
styleguru.com


Vintage hair dryer
Looks like Frankenstein's lab!
sustainableonlinemagazine.com