wikipedia.com
I saw a cooking segment on television the other day which featured a main course of fondue. There seems to be some dispute about the history of this cooking tool. The most popular seems to suggest that fondue or "fondre" meaning to melt in French, was invented in Switzerland. Peasants used it as a way of using up old, hardened cheeses.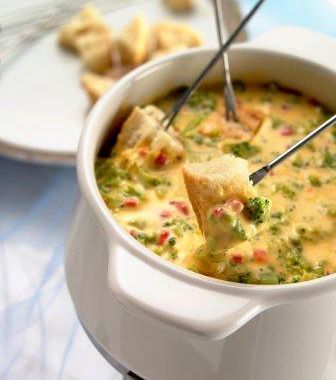 dvo.com
Since the Swiss made fondue its national dish in the 1930's, this very communal way of eating became very popular in the 1960's, expanding from just cheeses, to dipping meats and melted chocolate.

It's a really fun way of eating bite-sized entrées and desserts. So why did fondues become forgotten for so many decades? And what accounts for its resurgence?

searchamateur.com
We got into some decades when it was all about haute cuisine, eating out and having fun was about being somewhere else. These days I am seeing such a rebirth of staying in for fun, "staycation" isn't a new phenomenon, just a new name for what's been going on for awhile. We are still deeply in a germophobic society, so I see fondue coming back "carefully" with Seinfeld-esque no double dipping rules. But it's way too much fun and communal to huddle over a bubbly caquelon full off oozy cheese and wine or decadent chocolate! Dip away!