oldnavy.com

I was having my usual cereal for breakfast and tuned into our local morning show. Today they featured spring/summer fashions. It amazes me still that mainstream retail stores are going very retro. According to the expert on the show, the following are going to keep you on trend for this year:
1. Seventies + Chambray + Wide leg pants/jeans
2. Maxi dress
3. Retro Bohemian
4. Eclectic Prints
5. White + Minimalism
6. New Safari + Stripes
I wrote in a recent blog about my usual confusion with skirt lengths and pant leg diameters. Looks like it's changed again. I'm happy to see that longer hem lengths are acceptable once more. This new maxi dress from Old Navy is so cute and fresh looking with a definite retro vibe in its styling and colour scheme. The tube top portion takes me way back to the 1970's.

thegap.com

I'm also glad that flare jeans are in favour again as I felt like sausage casing in my skinny cords. They looked great but there's nothing better than feeling really comfortable in my clothes. The pocketless detailing on these jeans are so "Bionic Woman" or "Charlie's Angels" or even a bit of the "Mod Squad". They're faded but not stone washed, which brings back a whole other set of retro memories. I can pair these up with my wedge heeled shoes this summer. I can't wait for the warmer weather. But I can also wear these with a nice pair of boots and a sweater for this winter.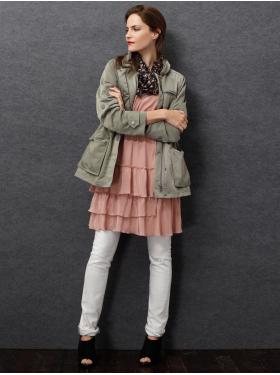 bananarepublic.com

Another trend this year is what the experts are calling "Retro Bohemian". I like the layered look as it can be great for those with more modest tastes and it doesn't conform to the body as much as fashions have been the last few years. Colours are put together in a very casual way, anchored by the white legging pants. The dress could be worn on its own or as shown with layers. I see myself back in the 1960's going to hear a poetry reading by an inspirational beatnik in a dark cafe.
It's nice to see that vintage and retro are in the minds of current designers. I think that it's very forward-thinking to look to the past.

If you are looking for new or old trendy items...