Happy St. Valentine's Day everyone. This is a day that can induce happy thoughts or suicidal tendencies. Any way you look at, it's gonna get celebrated - with glee especially by those who can profit from it. What is this day? It's not a national holiday here in North America. We all still go to school and work. It isn't a long weekend to celebrate during a cold winter. What makes it so special? I really don't have a great answer to this question. But I thought that it would be interesting to see how other countries celebrate this romantic occasion:
[All excerpts courtesy of stvalentinesday.org]
IN JAPAN

, "Valentine's Day is celebrated in an interesting manner on two different dates. On February 14, women present gifts to their boyfriends or any man close to them. The favor is returned to ladies on the White Day celebrated on March 14 when men pamper women who gave them gifts a month before on Valentines Day."
IN FRANCE

, "people once followed a peculiar Valentine's Day custom called "drawing for". Unmarried young and old people would go into houses facing each other and begin calling out across from one window to another and pair off with their chosen partner. If the young man failed to be particularly enthralled with his valentine, he would desert her. A bonfire would be lit later where ladies would burn images of their ungrateful lovers and hurl abuses at them. The ritual was eventually abandoned as it left much room for nastiness and ridicule. French government handed-down a decree and officially banned the custom."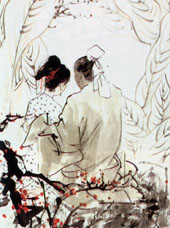 IN CHINA

, "people have a day devoted to love but it is quite different from Valentine's Day festival as seen in other parts of the world. Chinese Valentine's Day fall on the 7th day of the 7th lunar month in the Chinese Calendar. Hence the day is also called as 'Festival of the Double Sevens' or Qi Xi - 'The Night of Sevens'. The other popular name for the Chinese Valentine's Day is 'Seven Sister's Festival' and 'Daughter's Festival'.
In some provinces of China, people decorate the ox's horn by flowers on the Chinese Valentine Day in a belief that the ritual will save them from catastrophe. Following the age old tradition women also wash their hair to make them look fresh and shiny. Children wash their face the next morning using the overnight water for a more natural and beautiful look."
IN DENMARK

, "Valentine's Day is celebrated in a very conventional way. Some sweet and romantic traditional activities are associated with the festival's celebration. Youngsters take proper care to follow the traditions to have a successful and romance filled love life. The three most popular traditions of Valentine's Day are:
Lover's Card

The tradition of 'lover's card' is the most popular and romantic Valentine's Day custom in Denmark. Earlier, these cards came in the form of transparent cards which reflected the picture of a lover presenting his beloved a wonderful gift when it was kept in front of light. Now any card is called a Lover's Card. Every card shop is stocked up with colorful and musical lover's card with charming Valentine messages.
People celebrate the custom of White Flower with immense love and care. As per the tradition, people send white flowers called 'snowdrops' to their friends and lovers.
Tradition of Gaekkebrev
Young couples also write special love poems, beautiful romantic love notes and some funny poems known as 'gaekkebrev'. It is customary for the sender of gaekkebrev to pen down a rhyme for his beloved. He is not required to put his name on it. He signs the message with dots for the lady. Now, the girl who receives the card is supposed to guess the name of the sender. If she is able to guess the right name, then she is rewarded with an 'Easter Egg' on that very year.
IN SCOTLAND,

"a

very important and enthusiastically followed tradition is the search of Valentine date. According to this Scottish custom, the first young man or woman encountered on the street or elsewhere on Valentine's Day becomes his or her Valentine and the day is celebrated with them. Valentine's Day celebrations is not a grand affair in Scotland. People prefer small get-togethers or a romantic candlelight dinner. They exchange gifts and cards with their loved ones to make them feel special.
Various games are played in Scottish Valentine parties. In a most popular game, an equal number of men and women are made to write their names on a piece of paper which is then folded and placed into a hat. One hat is for ladies and the other one is for men. The female then draws one name from the men's hat and the chosen man has to stick with his Valentine throughout the party. Later on, gifts are exchanged and Valentine's Day is greeted with hugs and kisses. Such wonderful Valentine games often result in unusual marriages."
IN SOUTH AFRICA

, "the most commonly observed tradition includes going out on a romantic date with one's Valentine. Young couples make it traditional to celebrate the day at a very romantic place. Also, young girls celebrate the occasion by following an old-age Roman festival of 'Lupercalia'. According to this traditional festival, young girls pin their lovers names on their sleeves. At some places, men also follow this custom."
As for me, we are planning on having a nice seafood dinner home. We have long ago abandoned the idea of dining out at a restaurant. Maybe we've been married too long to act like new lovers mooning over each other across a table in public. We love our home and the privacy and comfort of our own castle has a lot of appeal for not just Valentine's Day, but for the many other romantic dinners that occur throughout the year.
I love romance and the idea of romance, but that doesn't necessarily mean I need flowers and chocolates. We still have a pantry full of the sweet stuff left over from Christmas.
My suggestion for today is hug and kiss your loved ones, give a hug and a kind word to your friends, coworkers and neighbours. This isn't a blog about anything vintage, but the idea of love is timeless and eternal, don't you think?
Celebrate Valentine's Day your own special way...